2nd ZVEI Academy business trip to Guangdong
14th to 16th October 2019, Foshan / Shunde
17th and 18th October 2019, Dongguan / Shenzhen
October 14, 2019, site visits in Foshan and Shunde
Visit to ROBOTATION ACADEMY, where a new application from Weidmüller has just been installed and put into operation.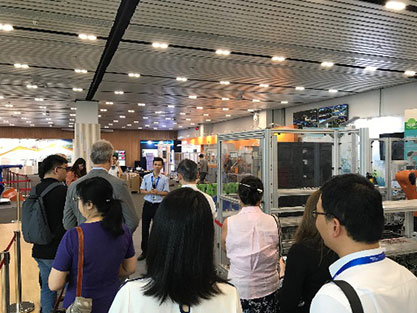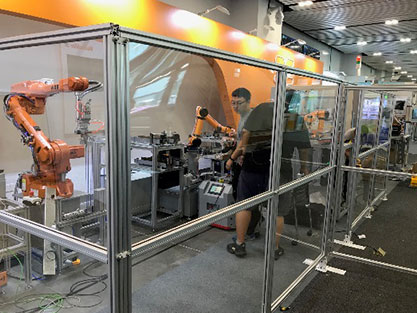 Visit to JATEN, manufacturer of (partly) autonomous robots for intralogistics. Founded in 2002, JATEN has already been exhibitor at the Hannover Messe and member of the Bundesvereinigung Logistik (BVL). Customers are e.g. BMW and Daimler.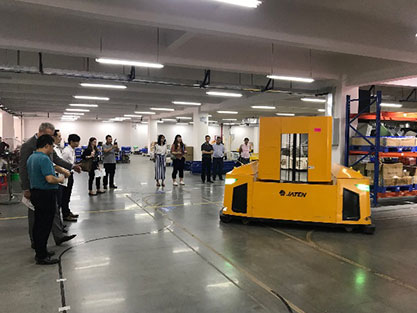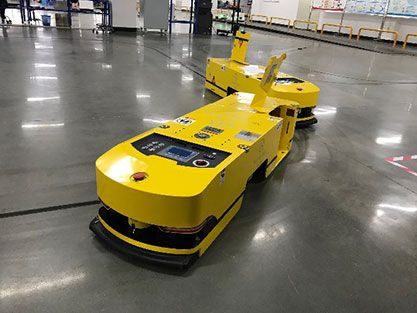 Visit to BRIGHT DREAMS ROBOTICS, a 100% subsidiary of Country Garden*). Founded 18 months ago with 20 employees, now 4,000 employees. Within 6 months about 30 autonomous robots were developed for the construction sector especially for indoor usage.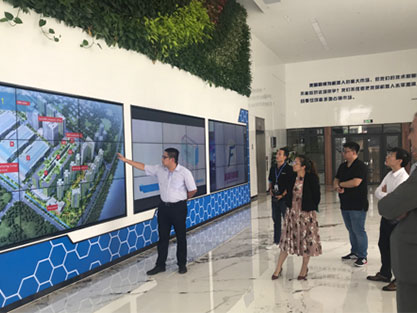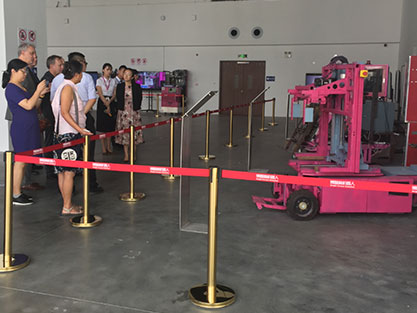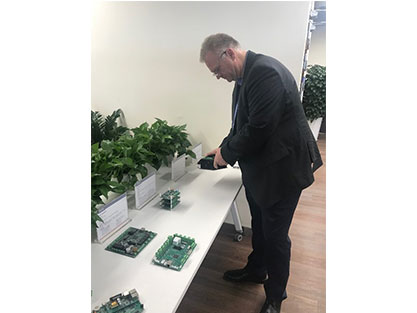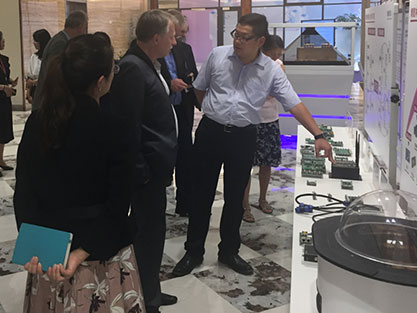 *)Family-owned property development company – ranked 353 (2018) of the Fortune Global 500 list of the world's largest companies. So far, about 1.5 million properties were sold and employs over 124,000 people worldwide. Main market of the company is the People's Republic of China. The company also is active in Australia and Malaysia.
October 15, 2019, ZVEI Conference and banquet dinner in Foshan
Dinner in Foshan
Tour of the temple district in Foshan.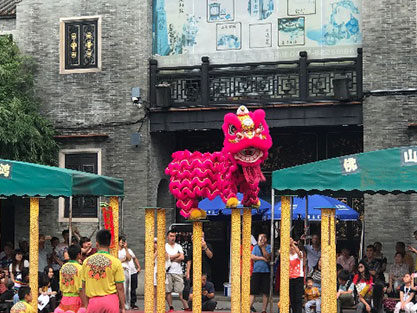 Exclusive invitation to the Lord Mayor of Foshan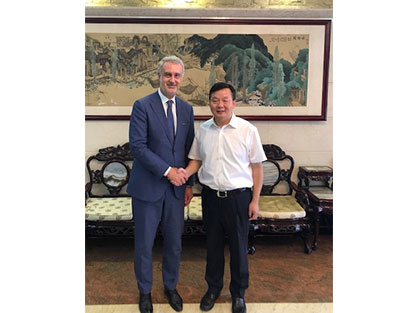 2nd ZVEI Conference "Sino-German Summit on Smart and Intelligent Manufacturing" with more than 130 participants. Speakers from ZVEI member companies presented and discussed with Chinese entrepreneurs and customers. Also on site: AHK Guangzhou, BDI and GIZ (both Beijing Office).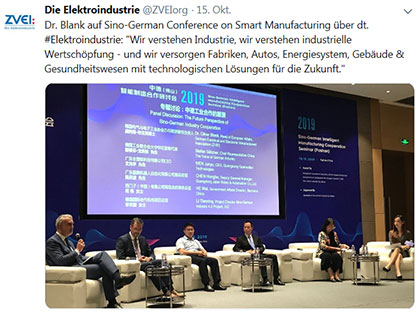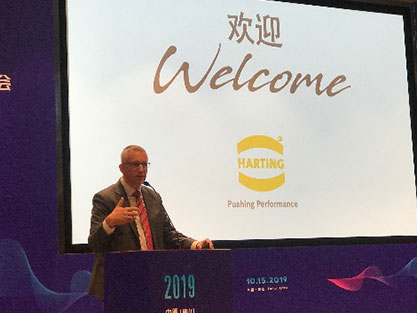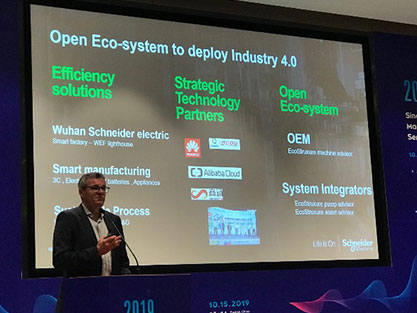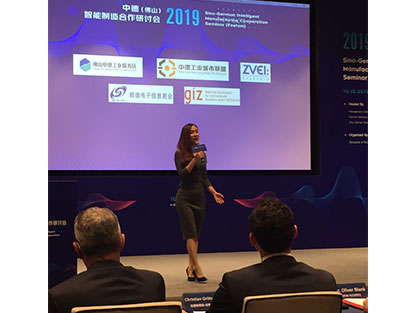 Banquet dinner based on invitation Of Foshan Sino-German Industrial Services Zone (Chinese host of the trip to Foshan).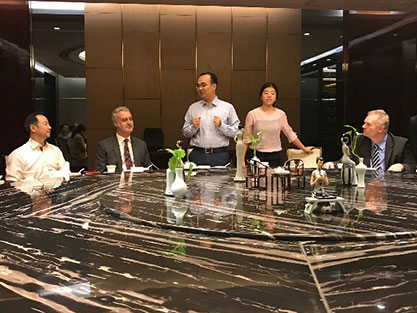 October 16, 2019, activities at the internet+ fair in Foshan
Booth and activities on the Internet+ fair in Foshan. Visit of the Lord Mayor, talks with interested parties at the booth as well as various interviews, for example with CCTV and regional channels.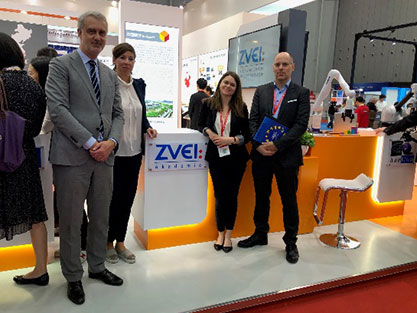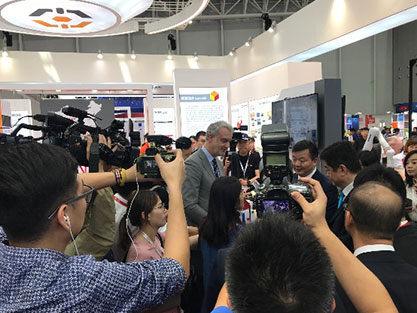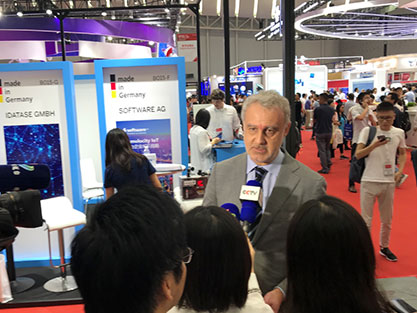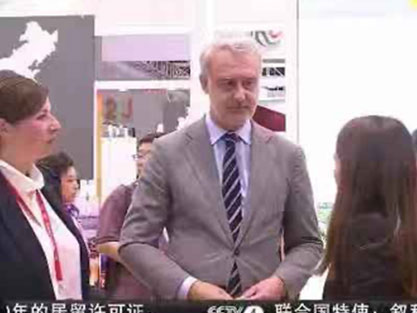 16-17 October 2019, participation at ISA meeting, visit of Miele production site
Participation as guests of honor at the 8th Plenary Session of the Sino-German Industrial City Alliance.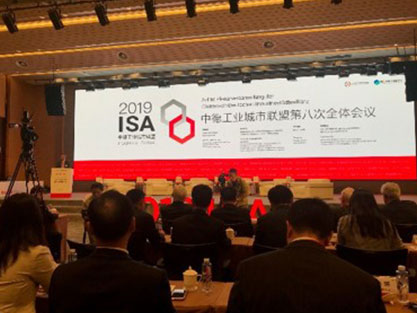 Journey to Dongguan / Shenzhen. Factory tour and exchange of ideas in Miele production site (vacuum cleaning plant) in Qishi, Dongguan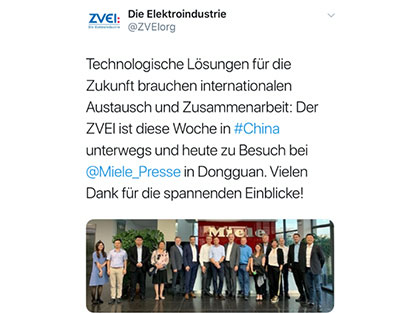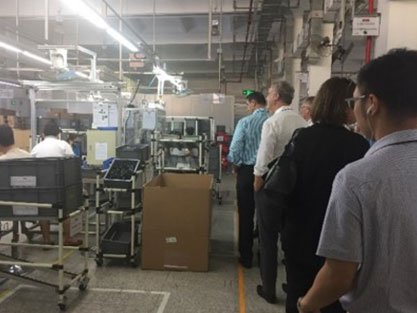 October 17, 2019, visit to Huawei (production site and campus) in Longgang
Visit to PCB assembly at Huawei in Longgang..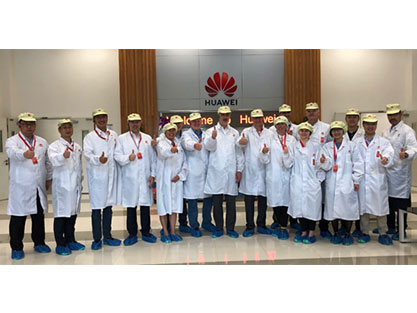 Tour through the R & D campus "Ox Horn", where over 25,000 researchers are already working (view from "Verona" to "Heidelberg"). Currently expanding the area around "Oxford" and "Cambridge". Work piles are being created for up to 40,000 people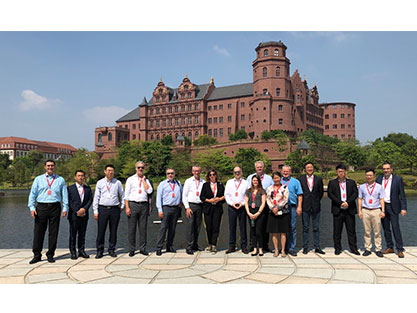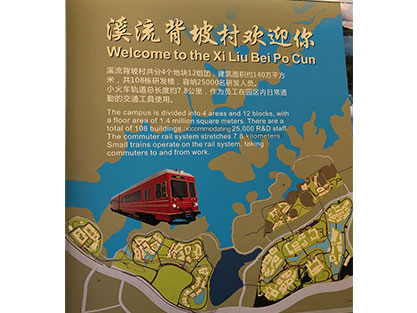 October 18, 2019, visit of Huawei HQ and showroom in Shenzhen
Visit to Huawei showroom: reception, presentation the application fields, e.g. AI chip for mobile phones and for retrofitting of video surveillance systems for "Real-time Face Recognition", partner board (selection).

October 18, 2019, lecture and lunch with Huawei, Shenzhen
Presentations to Huawei, ZVEI, 5G and AI. You can see some key facts about Huawei you in the picture on the right. Turnover in 2018 approx. 100 billion euros (No. 61 Fortune 500 Index).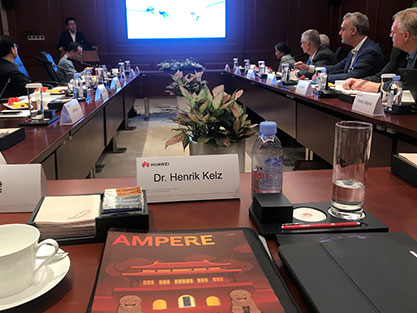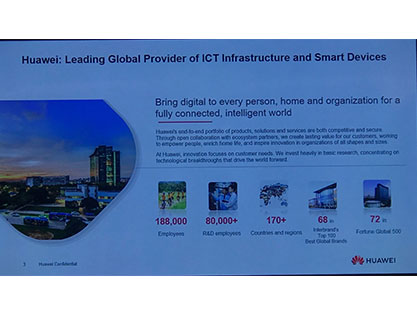 In-depth discussions and exchange of ideas during lunch.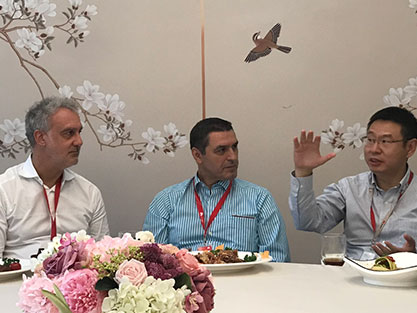 Departure from Shenzhen at the same evening.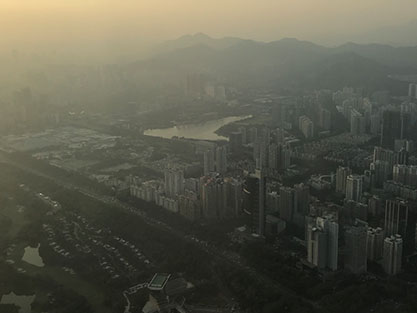 Summary & Take aways
The ZVEI has further increased its awareness in China and is a sought-after discussion partner – progressively on the media and on the local political level in important cities and regions.
German electrical companies are highly appreciated business partners in China. Chinese companies still want to cooperate with German companies (we are still considered as a pioneer in Industry 4.0).
The transformation of the Chinese industry towards "intelligent manufacturing" and robotics has accelerated further – both state and private investments are massive (thought and worked in global ecosystems).
In some areas, some Chinese market leaders are already ahead of us (e.g. AI), also because of other legal frameworks (such as the protection of personal data) and greater technology openness.
Increasing demands on climate protection, energy efficiency and environment create a stable framework for investments in China (for example in the development of smart grids and electromobility).
Our members, who are producing in China, are already feeling the effects of US trade sanctions and need to reorganize flows of goods and added value – the continuing US trade dispute is causing uncertainty in politics and economy.
Our presence in China is making more Chinese companies interested in ZVEI.
ZVEI / ZSG should continue to offer business travels – reinforced with partners, e.g. visiting the customers of the electrical industry (mechanical engineering, automotive), AHK and BDI – and new sites of interest to EEI (for example Taicang).
Über ZVEI-Services
Die ZVEI-Services GmbH ist eine 100-prozentige Tochter des ZVEI, des Verbandes der Digital- und Elektroindustrie. Wir bieten branchenspezifische Leistungen und Wissen aus erster Hand.
Publikationen:
www.zvei-shop.de
Aktuelle Veranstaltungen:
www.zvei-akademie.de
Über die ZVEI-Akademie
Die ZVEI-Akademie versorgt Sie mit Seminaren, Kongressen und Managed Events zu innovativen Themen der Elektro- und Digitalindustrie.
Profitieren Sie von unserem Branchen-Netzwerk und dem Know-how exzellenter Referentinnen und Referenten aus Wirtschaft, Politik und Gesellschaft.
Kontakt
ZVEI-Services GmbH
Lyoner Straße 9
60528 Frankfurt am Main
Telefon: +(49)69 6302-200
Fax: +(49)69 6302-482
E-Mail: zsg@zvei.org